DR. JOEL SUÁREZ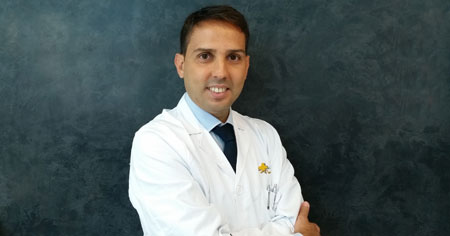 El Dr.Joel Suárez, especialista en Glaucoma i Cataractes; es va llicenciar en Medicina i Cirurgia a la Universitat Autònoma de Barcelona (UAB) i posteriorment va accedir a una plaça MIR com a resident d'Oftalmologia a l'Hospital Vall d'Hebron de Barcelona (UAB). Durant la seva formació ha superat els exàmens corresponents a "International Council of Ophthalmology" en les seves tres fases: Basic Science, Optics and Refraction and Clinical Science.
Actualment és Cap del departament de Glaucoma de l'Hospital General de Catalunya, Hospital Sagrat Cor i del Servei Integrat d'Oftalmologia del Vallès Oriental (Hospitals de Granollers, Mollet i Sant Celoni).
Des de setembre del 2016 treballa com a metge especialista en Oftalmologia i és el responsable de l'Institut d'Oftalmologia del Centre Mèdic Creu Groga.
El Dr. Suárez combina la seva intensa activitat clínica, quirúrgica i de formació de residents, amb nombroses ponències i presentacions en cursos i congressos nacionals i internacionals; així com diverses publicacions mèdiques i col·laboracions en llibres de text d'oftalmologia (Glaucoma i Catarata, Actualització en la cirurgia de Glaucoma, etc.)
Ha rebut en dues ocasions el premi a la millor presentació en el congrés de la Societat Catalana d'Oftalmologia.
Compromès amb la formació i la investigació, és membre del comitè d'experts del programa "Save Sight Years", participant en el seu desenvolupament i de "Vallès Ophthalmologia Research"; on participa i coordina múltiples assajos clínics i projectes d'investigació relacionats amb l'oftalmologia.
És membre de la Societat Americana d'Oftalmologia, la Societat Catalana d'Oftalmologia i de la Societat Espanyola de Glaucoma.
https://www.creugroga.com/wp-content/uploads/2020/11/LogoNou-Creugroga-1.png
0
0
https://www.creugroga.com/wp-content/uploads/2020/11/LogoNou-Creugroga-1.png
2019-05-27 11:45:59
2019-05-27 11:45:59
DR. JOEL SUÁREZ