DRA. ISABEL AYET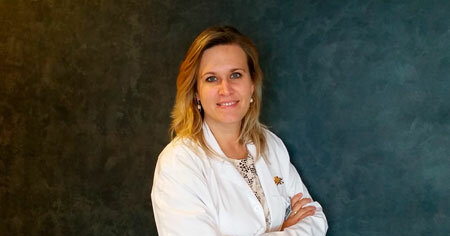 La Dra. Isabel Ayet, especialista en Oftalmologia Pediàtrica, es va llicenciar en Medicina i Cirurgia a la Universitat Autònoma de Barcelona (UAB) i posteriorment va accedir a una plaça MIR com a resident d'Oftalmologia a l'Hospital Sagrat Cor i l'Institut Català de la Retina de Barcelona (ICR).
Va realitzar els cursos de Doctorat i va aconseguir la suficiència investigadora a l'Hospital de la Vall d'Hebron (Barcelona). Posteriorment va realitzar un Màster en Oftlamologia Pediàtrica a l'Hospital maternoinfantil de Sant Joan de Déu (Esplugues del Llobregat) per la Universitat de Barcelona (UB).
Durant la seva formació ha superat els exàmens corresponents al "International Council of Ophthalmology" en les seves tres fases: Basic Science, Optics and Refraction and Clinical Science. També va completar la seva formació a l'estranger a Londres als hospitals The Royal London Hospital (retinoblastoma), Sant Bartholomew's Hospital (oncologia ocular general), Moorfields Eye Hospital (oncologia ocular general).
Des de febrer del 2017 treballa com a metge especialista en Oftalmologia Pediàtrica a l'Institut Oftalmològic del Centre Mèdic Creu Groga. També treballa com a Metge adjunt del departament d'oftalmologia de l'Hospital maternoinfantil Sant Joan de Déu a Esplugues del Llobregat (Barcelona).
La Dra. Ayet combina la seva activitat clínica, quirúrgica i de formació de residents, amb ponències i presentacions en cursos i congressos.
És membre de la Societat Catalana d'Oftalmologia i de la Societat Espanyola de Retina
Dimarts a la tarda i divendres al matí
https://www.creugroga.com/wp-content/uploads/2020/11/LogoNou-Creugroga-1.png
0
0
https://www.creugroga.com/wp-content/uploads/2020/11/LogoNou-Creugroga-1.png
2019-05-27 11:45:25
2019-05-27 11:45:25
DRA. ISABEL AYET